Thanksgiving Day Outfit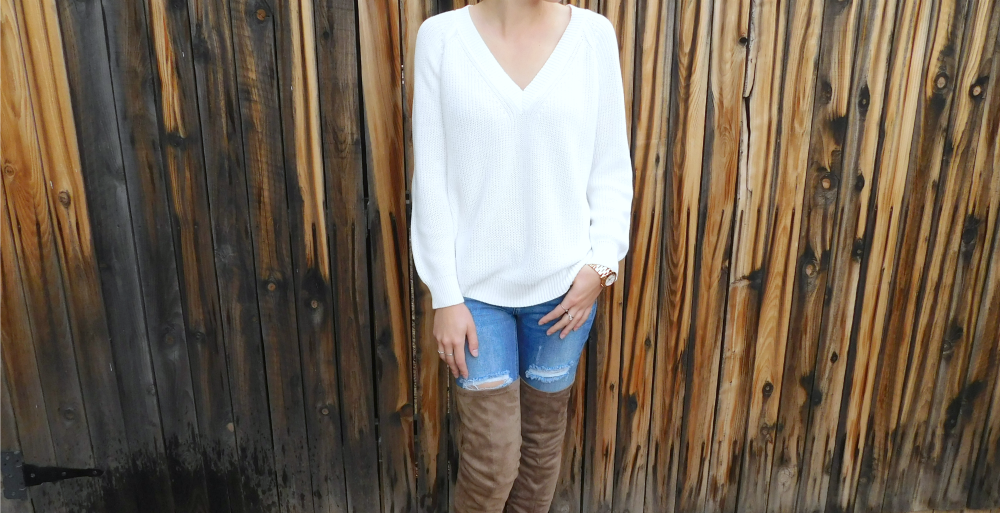 Outfit Details
Good morning, everyone!
Who else is over the moon excited that Thanksgiving is almost here?!
It is definitely one of my favorite holidays. My family, I swear, always has the BEST food.
My personal favorite recipe is my Mom's green bean casserole. I could literally eat it all day long. While I am a huge believer in "calories don't count on Thanksgiving", that doesn't mean you can't incorporate healthy foods into the day. 
A super simple snack, that requires no cooking, (hallelujah), are
Cinnamon Apples
!
Slice up some apples, and sprinkle cinnamon. It may sound a little boring, but it makes a perfect light snack for when you're cooking, or sitting and chatting with family. It definitely is a little taste of Autumn! I prefer to use Gala apples. 
This year, we will be celebrating at my parent's house, so I expect things will be a little crazy around there. Which is why I wanted to put an outfit together ahead of time, as I don't want to be stuck throwing something together last minute the morning of!
(So stressful)
My look for this Thanksgiving is classic, simple, with a touch of trendy. I chose to wear my hair in a bun as it will save me a lot of time in the morning doing it, and it allows these adorable gold diamond earrings to show. To make my messy bun a little cuter, I did a small french braid on the side, going back into the bun.
*Buns also come in handy when you need to get ready to take pictures in 5 minutes because your roommate/photographer has class in 20 minutes but you still need this Thanksgiving post - Lol (Thank you, Miranda)*
I am so in love with those boots! Over the knee boots are so popular right now, I think they add so much to an outfit! Mine were under $40, and the least expensive ones I've seen so far. Don't worry, they are still super comfortable and they fit great. 
Knits and distressed denim are two staples you need in your Fall and Winter wardrobe. I picked up this sweater just the other day, for around $15, and these jeans for about $20. 
As I am still a poor college student, finding pieces I love for cheap is so important. I'm an expert deal finder! (Pssst. Forever21 is doing free shipping on all online orders over $50)
I hope you all have a safe and fun Thanksgiving with your loved ones!
Comment below your favorite recipes and traditions, I would love to hear them! :)
Shop the look below! Unfortunately, with shopping at the beloved Forever21, finding your in-store items online can sometimes be difficult, if not impossible. I have linked my items in the colors they are available in online below, just click the picture. The jeans are similar to mine, (cuter than mine, if I'm being honest) but not the exact same pair.
Note - the boots also come in red and black online and I must say, I love them all.Have a happy holiday!
Much love,
Anna
---