4 Resolutions for the New Year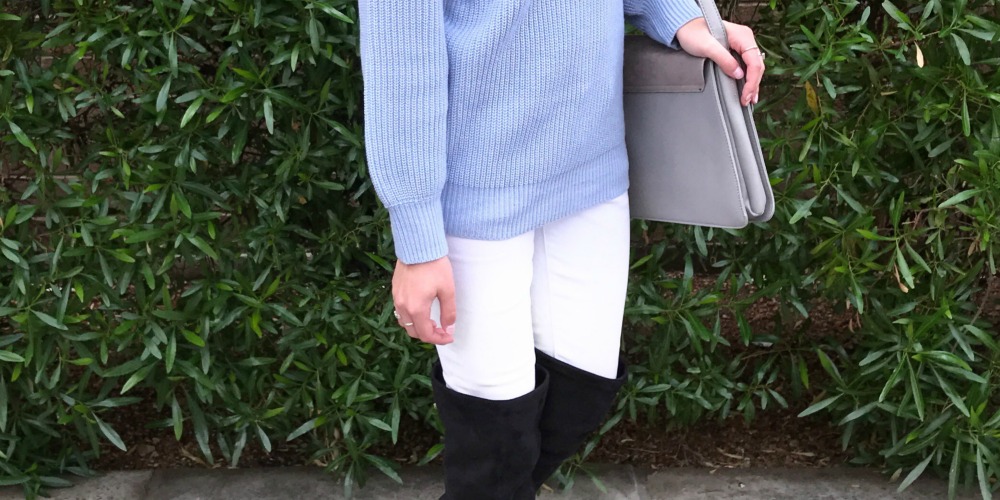 Hello everyone!
How was your Christmas?!
I was so beyond excited when I received this sweater in the mail last week. It has so many of my favorite features in a sweater: blue, warm, turtleneck, and the super trendy cold shoulder! I seriously couldn't wait to wear it and whipped it out at my first opporunity. This look is absolutely a must-have this winter, I just absolutely love the colors together!
The sweater actually came in as better quality than I expected. It is definitely a warm sweater and seems to be made pretty well! These boots, I am not going to lie, aren't the best quality. They are comfortable enough that I was able to walk around for a few hours, didn't have to break them in, and my feet didn't hurt. I don't think they'll fall apart any time soon, and they look nice on, but they don't fit as well around my thigh as more expensive pairs do. If you are looking for a cute yet inexpensive pair of over the knee boots that you don't really have to stress about ruining, I would recommend these! I will definitely be wearing them a lot this winter.
Also, please welcome my photographer, (my little sister) Bailey! Thank you for all your help & support, I love you!
With Christmas 2016 now behind us, all thoughts are on the upcoming New Year! Every year, my New Year's resolutions include something along the lines of "be more active" or "eat healthier", but this year I want to try something a little different. Growing occurs all the time in life. We are constantly learning more about the world around us, and these lessons are what shape us. This year, I would like to encourage positive growth within myself!
Don't get me wrong, 2016 has been an amazing year. One of the best! But who says 2017 can't be even better?
That's what I want for myself, but also for you, too!
Here are 4 of my New Year's resolutions that I will be striving to achieve this year. I feel they will get me on the right path for positive personal growth!
1. 30 minutes of cardio every day. While this is a bit of a short term goal, it also doubles as a long term one as well. I go in spurts of working out consistently and falling into ruts where I do nothing at all (please tell me I'm not alone... lol). To relieve some of the pressure of keeping a strict gym schedule, I am going to promise myself that I will at the very least, walk or run for 30 minutes each day. In time, it is my wish that I will be able to expand this goal to reach more gym time overall. And honestly, those endorphins make me waaay less cranky anyways!!
2. Become a more active listener. I would love to do twice as much listening as I do talking this year. There are some very wise people out there, and by just taking the time to really listen, I've found answers to questions that had previously gone unanswered. And considering that I have quite a few questions floating around in the universe right now, this would probably do me a lot of good! It is way easier for me to talk than to listen, so I really am striving to really hear people out.
3. Journal the things I am thankful for 3 times a week. Right now, I only do it when I am feeling sad, or need to be reminded of all that I am blessed with. By doing it consistently, I hope that I am able to go through life with the constant reminder of everything that is good. It is so easy to get wrapped up in what is wrong or what you don't have. I want to challenge myself to be more mindfully grateful.
4. Push myself to achieve my goals. Does anyone else have the endless list of things they want to accomplish?! Anyone else find themselves not making nearly enough of a dent in said list? This is the year of being a doer, not just a talker! With graduation coming up, this resolution will be put to the test but I am excited for the challenge. I have already started a checklist and some action plans - getting geared up to accomplish some big (and small) things! Both are equally as important :)
What are some of your resolutions this year? Feel free to share in the comments below, I would love to hear your ideas! Even if you aren't into the whole "resolutions" thing, I hope you take on the New Year with a bright smile and a strong heart!
Stay kind,
Anna
Shop this post!